DVIRIA Nano Tech Sdn Bhd, a wholly-owned subsidiary of Ho Wah Genting Berhad ("HWGB" or the "Company") (Bursa Stock Code: 9601), has today officially launched its D'VIRIA Nano Chlorine Dioxide ("CD") disinfectant solution. This is the first surface disinfectant in Malaysia approved by the Ministry of Health (MOH), and it will be distributed for commercial premises and domestic household usage.
In conjunction with the launching, the Company also kickstarts its Corporate Social Responsibility ("CSR" programme, which equipped Malaysia's mega vaccination centres ("PPV") and government offices with D'VIRIA Nano CD disinfectant solution and D'VIRIA Atomiser air disinfectant machine to keep the spaces contamination-free. "This is an initiative to ensure our frontliners, volunteers, and civil servants can stay worry-free as they push for the nationwide inoculation and ensure that civil services continue undisrupted," the Company said.
D'VIRIA Nano CD patented disinfectant solution, which includes surface disinfection, helps to eliminate up to 99.99% of viruses and bacteria. This is the first surface disinfectant that has obtained approval from the MOH for usage, in line with the certified usage that shows the disinfectant is effective within 60 seconds on surfaces. D'VIRIA also leaves no residual, is eco-friendly and would not be destructive to surfaces. Users do not need to wipe off D'VIRIA after applying as it is non-toxic and safe to apply without the need to wipe it off from the surfaces subsequently.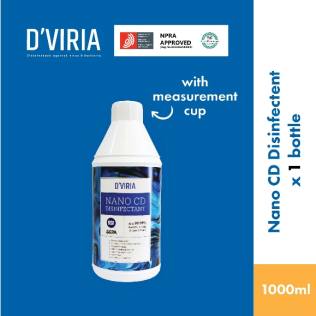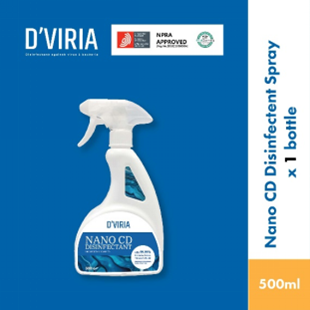 Certified halal, the non-toxic and eco-friendly product, is also certified by NSF International, a US-based product testing, inspection and certification organisation for meeting strict standards for public health protection. The automatic and adjustable D'VIRIA atomiser air disinfectant machine ensures that the surfaces in a confined area has been disinfected, allowing users to stay worry-free when carrying out daily tasks, especially in the office premises.
The approval given by the MOH's National Pharmaceutical Regulatory Agency represents a significant milestone for the Company in its journey to penetrate the Malaysian market further. The approval indicates that the Company has met all the standards and safety measures set by the MOH. It will instil confidence in future consumers that the Company is providing a safe and reliable disinfectant solution.
Executive Director of HWGB, Mr. Bernard Lim Wee Kiat said: "This approval is key in the rollout of D'VIRIA Nano CD patented disinfectant solution, and it will help Malaysia to gradually reopen its economy. It is vital that businesses select the right sanitising product to keep their employees and customers safe as we move towards reopening our economy as this will boost consumer and employees' confidence."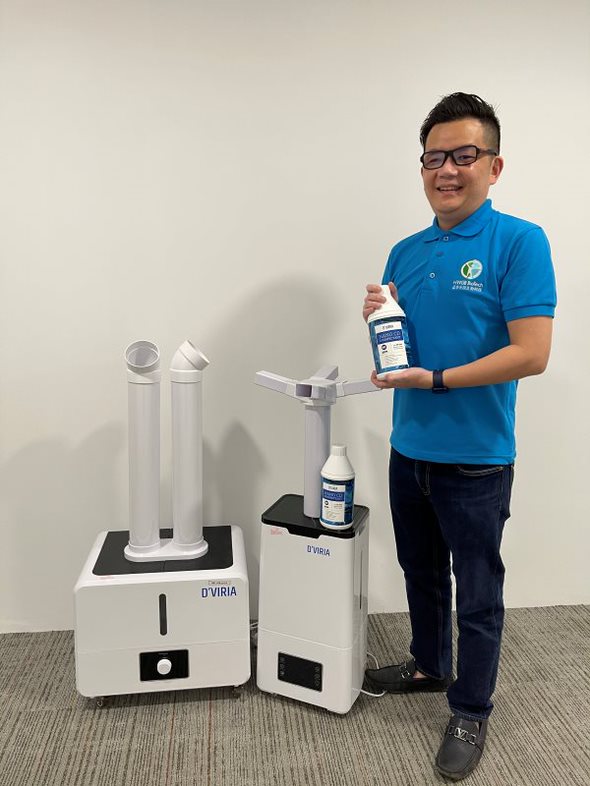 "Employees who feel safe will be more productive, while customers will have more confidence to consume in a safe environment. While the COVID-19 virus is quite fragile, reports suggest that it can persist on surfaces from minutes to hours, increasing the opportunity for it to transfer from hand to body and therefore increase the risk of infection. With D'VIRIA Nano CD patented disinfectant solution, the surfaces will be sanitised frequently, which reduce the risk of COVID-19 infection in a confined space. Hence, we are confident that our disinfectant will be the solution that both businesses and the community are looking for as we gradually reopen our economy. This will also help us to penetrate our solutions into the market."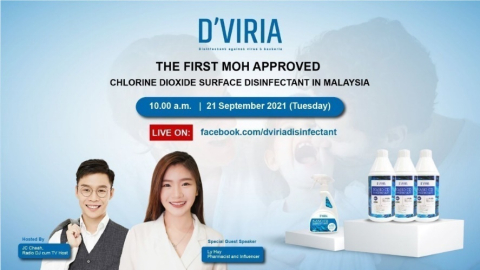 Facebook Live Link: https://fb.watch/89iUD5S-Vp/